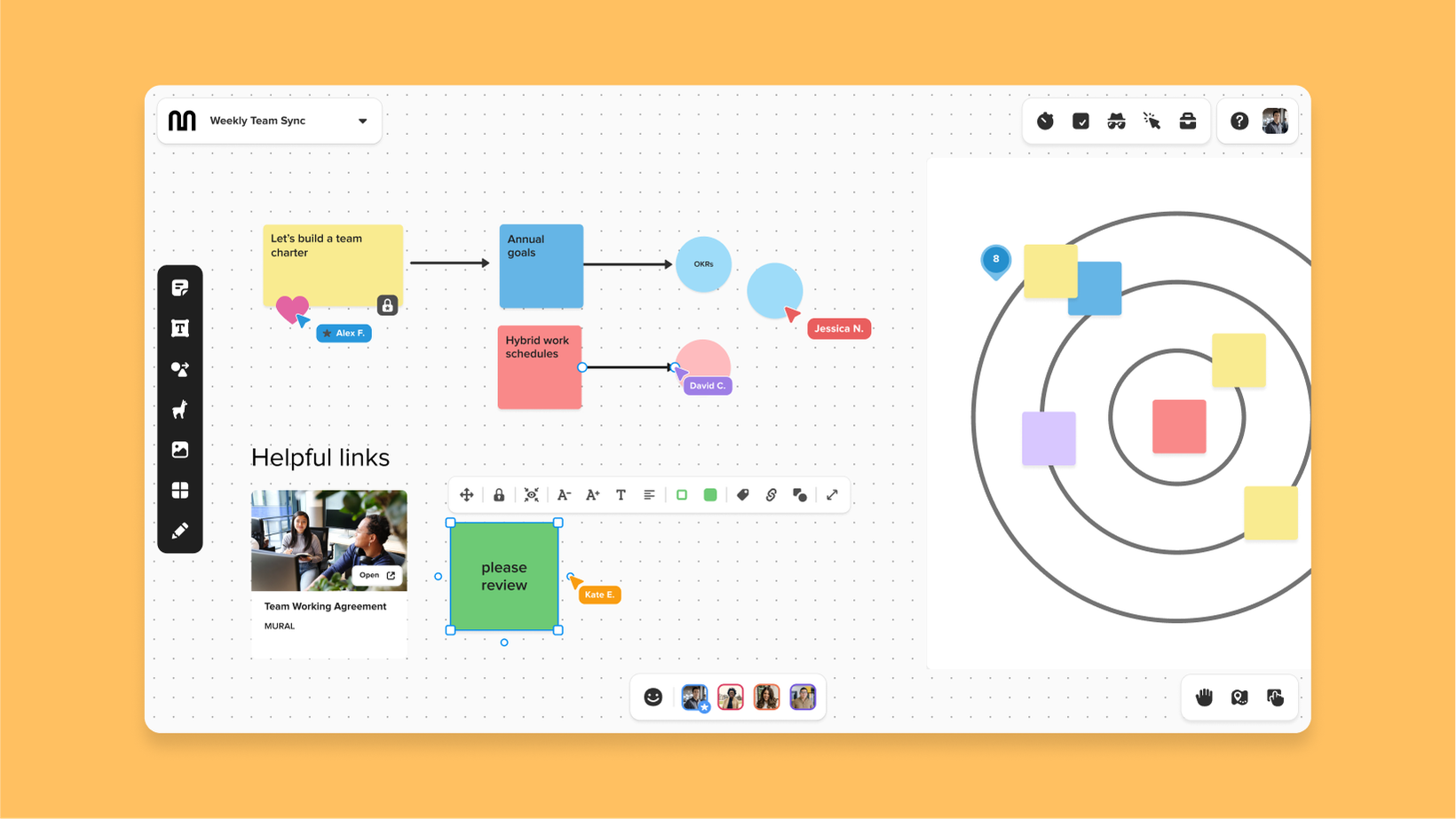 DATE:

AUTHOR:

The Mural team
Enterprise trust and security
Devices
Collaboration and facilitation
Meet the new Mural — an upgraded UI to go alongside a new brand, find content faster in our collaboration center, and so much more!
DATE:
AUTHOR: The Mural team
Wrapping up the 2022 year with some exciting December updates below!
Opt in to try our upgraded user interface!
It's clean. It's bold. It's accessible. It's here for you to try! 
Alongside the new Mural brand that you can check out at mural.co, we've upgraded our user interface with subtle design changes to create a more vibrant and delightful experience while collaborating. Rounded corners, top left text alignment and drop shadows on sticky notes, bold new high-contrast iconography on toolbars and menus for improved accessibility and moments of playful animation will both surprise and excite. Working with Mural should be fun, after all! 
But beyond our new and improved look, we've also simplified our navigation to put the features you use most front and center. This means less time searching, and more time doing. Highlights include: 
Text and sticky notes each have their own section in the left toolbar for quick access, since these are the most common ways to express ideas in a mural

Facilitation Superpowers including timer, private mode, laser pointer and more are intuitively grouped together in the top bar for more seamless control while running meetings

The mini-map can now be toggled on/off when you want more working space in your murals 
To learn more about our new user interface, check out the blog post from our very own SVP of Design, Kit Unger, and watch our new 'Welcome to Mural' video resource.
We've added an easy way to try out our new UI when you're ready: click the new
button in the upper right corner in any mural. And don't worry - our classic UI isn't going anywhere right now! Click the
at any time to toggle between our classic and upgraded styles as you get used to the changes. Learn more. Note: during this "opt-in" phase, we are actively working to achieve full accessibility and feature parity between our classic and upgraded UI styles, and will not remove the option to toggle until we do so.      
Find content faster, and easier, in our improved collaboration center
We've improved the navigation and design of the Collaboration Center - otherwise known as the dashboard - making it easier to find the content you need and start collaborating quickly with teammates and colleagues in Mural. Highlights include:
Home, Recent, Starred and Search now bring together content from all the  workspaces you've joined, which has been a top request from our members with lots of workspaces. But we still provide the option to view content by specific workspaces, too!

Rooms now have their own dedicated landing page, accessible from the left sidebar, where you can view Recent, Starred, Open and Private Rooms. If you need to quickly return to a previous room you accessed, you'll find it in the new 'Recent Rooms' row.

The search experience is now front and center at the top and results are more visual, making it easier to differentiate between murals, templates, and rooms.

Every member and guest now has a profile page: a personal hub to manage profile information, rediscover content you've created, browse template recommendations, and more. You can also view your collaborators' pages to learn more about them and the type of work they do. It's a great way to build stronger connections to those you work with beyond just what you're collaborating on. After all, there is no collaboration without people! Learn more.
We have more fast-follow collaboration center improvements on the way, and we'd love to hear your feedback!
Structure and organize content how you want using tables - now generally available
A top requested feature, tables allow you to structure and organize your mural content with ease. Our customizable formatting options and support for a variety of content types including text, sticky notes, tags, links, images and more make it easy to convey even the most complex information and ideas in a structured, yet flexible format. Easily add, merge, and remove columns and rows to make your customer journey maps, OKRs, retrospectives or creative matrices come to life. Learn more.
To get started, click the table icon from the left sidebar, or grab one of our updated templates linked above! 
Unlock Facilitation Superpowers features for guests is now generally available
Admins can give mural owners the ability to make guests facilitators, on a per-workspace basis, to inspire new levels of collaboration and make meetings and workshops more interactive, engaging, and fun. Learn more. Available for Enterprise plans only. 

Small but mighty updates:
Enhancements to connectors create a more seamless experience while attaching them to objects in your murals.

Paste as provides more options and flexibility while pasting content into your mural - choose to paste content as multiple sticky notes, a single textbox, or multiple textboxes to fit your needs.

Improved alignment lines help keep your content nice and tidy while designing.

Easily present from a tablet or interactive display with outline and presentation mode. Simply tap the outline icon from either the top or bottom side bars to see and navigate to your outlined content, or start presentation mode. 

We've improved the overall experience while using Undo/Redo by showing you the selected content that was changed while using these actions. If that content is out of your browser frame in the mural, we will now bring that content back into frame!

Drawing on mobile and interactive displays is now more natural and effortless! When you pick up your stylus or enter drawing mode, you can now either draw directly on the canvas or inside sticky notes — without having to switch to sketch mode for the inking on sticky notes to be absorbed.