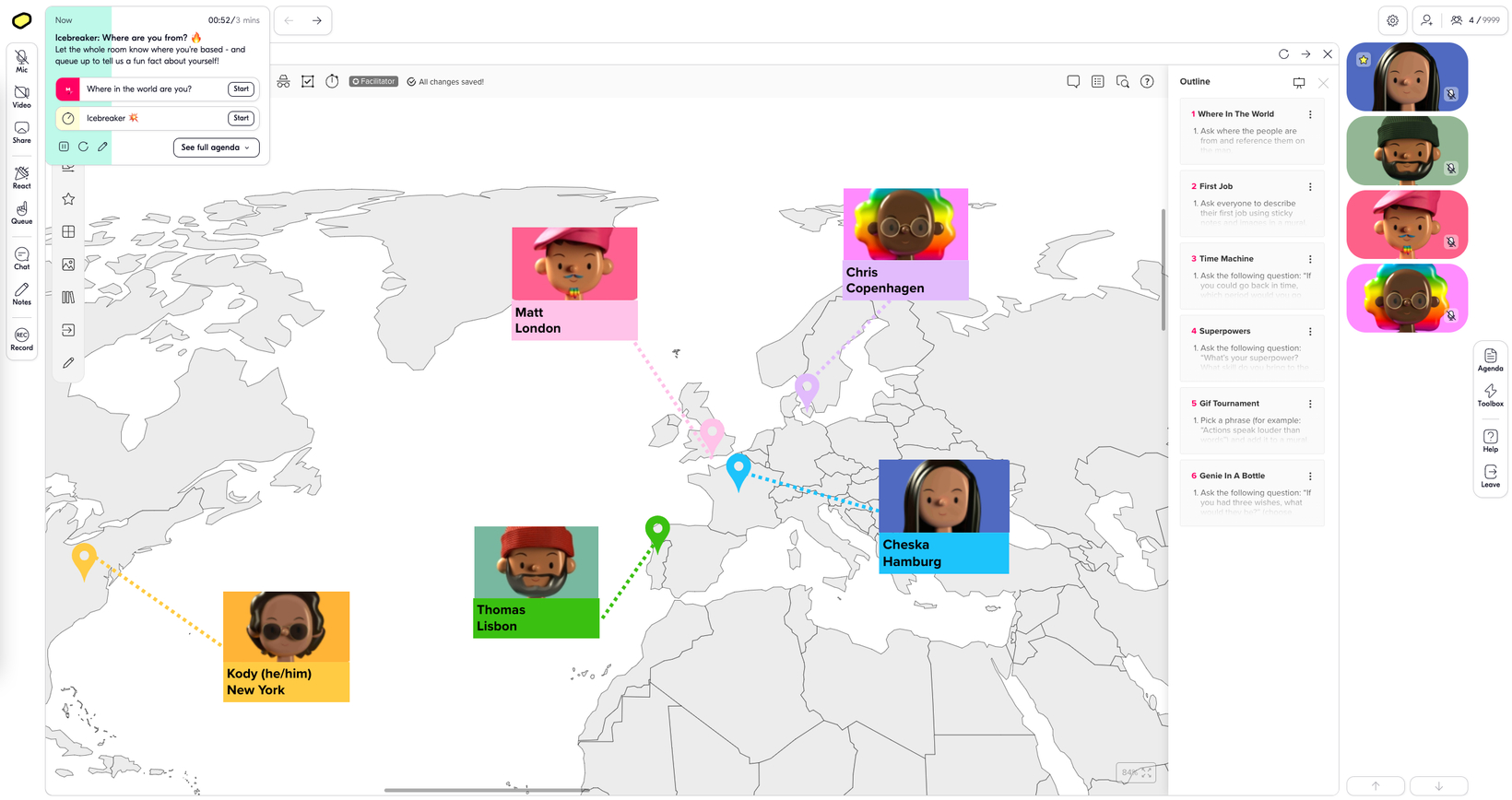 DATE:

AUTHOR:

Janae Smith | Product Marketing Manager
Integrations
Enterprise trust and security
Developer API
Collaboration and facilitation
Templates
Accessibility
Create highly engaging sessions in Butter, embed murals into your favorite websites and apps, download MURAL usage reports, and more!
DATE:
AUTHOR: Janae Smith | Product Marketing Manager
Here is the rundown from our latest monthly release — including a highly requested integration, a demonstration of the in-canvas screen reader beta*, and features for our company admins.
Butter fans can now collaborate in a mural without switching apps during a workshop
Bring visual collaboration into your next Butter workshop.
The MURAL App for Butter brings the power for visual collaboration directly into a fun and engaging all-in-one video conferencing platform. Whether starting a session on the fly or setting a detailed agenda, bring MURAL in to work together or visualize ideas with participants within Butter. Click here to get started with the integration or learn more about Butter.
Gain deeper insights into MURAL usage with a new Reports page in the company dashboard
Support account management, compliance initiatives, and other functions with self-serve access to a series of reports — available for CSV download — in our new Reports page in the company dashboard. This is a public beta you can learn more about on our support page.* 
  Need to programmatically access data on a recurring basis? Check out the MURAL Reporting API.
Play a demo of our screen reader and keyboard functionality to improve canvas accessibility
Last month, we announced functionality to enable navigation between elements on MURAL's digital canvas using keyboard shortcuts. This video demonstration moves through the new shortcuts and how to listen to information on sticky notes or area titles within a mural using a screen reader. 
And some small but mighty updates:
New Templates 
Show appreciation for your colleagues
Recognize and celebrate everything your team has accomplished with this kudos wall template.
Keep your projects on track
Use this create and track a project template to bring together key stakeholders to brainstorm, collaborate, and track a project's status, activity, and requirements.
Create more impactful engagements with your clients
Define the key deliverables and dates with your clients to achieve better outcomes with this mutual success plan template.
Plan for the 2023 calendar year
Get a head start on planning for next year with this 2023 annual calendar template.
Get the most out of your retrospectives
Use this retrospective radar template to come together and share learnings with your team for actionable, continuous improvement.
Collaborate on class group projects
Create alignment and track responsibilities with this template that helps students easily build trust, meet project requirements, and deliver work they are proud of. 

*Currently in public beta. Subject to testing and defects. Provided warranty free, "as is" and "as available" basis. MURAL not liable for any losses that may result from public beta.